Mommie's day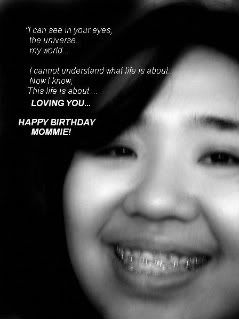 Today is my Mommie's birthday. I wish I was with her on this special day. But of course she's with me always especially when I am around food :)
This is one of the first pictures that I saw of Karidad, heck, who wouldn't fall for this right? :) Almost a year ago, I always read her profile several times and wished that she would give me the time of day :) I am glad that she did :) I still have to say thank you to the makers of that site.
I know that this is a mushy post but who cares. They always say that we are in the honeymoon stage because we're always happy. I don't want to jinx it but the year that I was with this woman is the best year that I have had in this lifetime well, apart from passing UPCAT of course.. hahaha..
She was everything that I prayed for and I always knew that I'll find her at 30 :) I waited 30 years, and it was so worth the wait :) I have to plan to meet her earlier on the next lifetime...
Happy birthday Mommie! I'll see you soon...