With the falling of the leaves I bid Adieu
(photos courtesy of Momon and Mommy Alyza)
As I drove along I-35WN, I could see Downtown Minneapolis from afar. The city is beautiful. It's not New York nor Chicago but it is a charming city that has a special place in my heart. Maybe because it holds so many memories for me. This is the place that I called home for six months this year and 8 months the previous year. If not for its infamous winter chills, I would love to stay here for good.
In retrospect, this is the perfect time for me to leave, the chilly winds are coming back and the colors of the falling leaves match my new hair :) The humid air of Manila is calling me back and the piper is ushering me to go home to where my heart is.
It's true that I measure time and achievements by the people that I meet and the moments that we share. As one movie quote goes, "I know what the secret of a good life is, friends... best friends..." I could never find the perfect partner for me yet, but I sure found the perfect kindred spirits to share the journey of life with. My type of people are of two types - kaladkarin and may mga sari-sariling topak and I say this in the most positive manner. And I am lucky that I had tons of them here in Minneapolis.
------
I had my final walk around the city awhile ago and I can't wait to go home to chaotic Manila. All I can really say right now is.. finally.. "MINNEAPOLIS ADVENTURE 2008 - Accomplished..."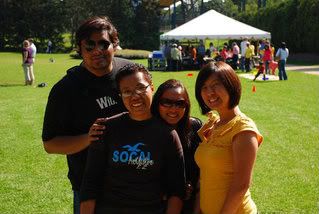 AMEN!