Things I will miss about Minneapolis - pangalawang hirit
I wanted to blog about Mamma Mia but right now what is foremost on my mind is how lucky I am to be here in Minneapolis in the midst of good friends, colleagues and the perfect Minneapolis weather.
I really enjoyed my stay here in Minneapolis the second time. I came here to test someone and sadly, she failed, or I failed. In retrospect, I think we both failed. It was easier for the inevitable to happen when the two of you are apart. This is for the best and of course, with every ending, there is a beginning. That's why I am looking forward to going home. :)
What should I miss most about Minneapolis? Of course, the good friends that I made here. Even if I just stayed here for four months, I built good relationships that I think will last me a lifetime. I liked driving my friends around, doing chores, and errands for them. It made me feel that I created a family here :) That was what I was doing all along, looking for groups of people I can treat as family - Congee, Mabby and Bibe; Rorie and Xtian; Guru Cads; Mommy Alyzza, Lara and Lilipot. They are my kindred sprits.
Mabby and Congee during their pre-nup pic taking -- with asungot..
My alagas.. Xtian and Rorie...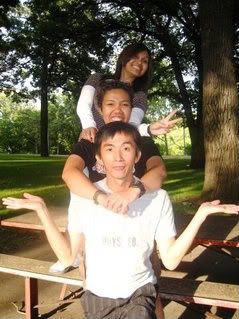 My FongFing (pingpong) buddies and colleagues at work.. (naks)
Mommy Alyzza and Lilipot! :)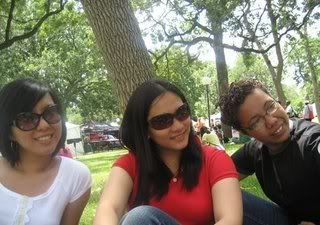 With Gerry Bearssss...
I always look forward to the cooking show at Mommy Alyzza and Lilipot's house. We will go there, assist Mommy and after a hearty meal.. DDR itoh! :) Dance Dance revolution! I also liked the parlorista stints. I colored Congee's hair, Xtian, Mommy and also Lili. I already have an alternative career in the future :) Tibong palorista... truly kakaiba :)
I will miss the afternoon pingpong mini-tournaments with my Filipino colleagues - Von Kungfu Gungon, Guru Cads and Cabalen Lawrence. I think I really improved my game and it was fun playing and attempting to steal a win from them. There are 2 things I look forward to at work - lunch and pingpong. I wish we have one in our Manila office.
-------
I alway joked that the reason that the universe sent me here was to take care of an injured friend. And I kept telling him that it was more for me than for him. The universe wanted to teach me a lesson and I think I get it :) He has taught me a lot of things and he may not admit it, but he's one of my life gurus. bow...
--------
The last month of my stay here I get to spend with my buddy Gerry. I will not see him for a long time and it was good that we were given an opportunity to hang out. I already planned our weekends together and with Gerry, I will not get lost... EVER! He can read maps... and he is my walking GPS :) And he keeps me grounded.... which is a good thing.
This is a good ending to my Minneapolis adventure. I am given tasks by the universe and I do my best to accomplish them. But right now, even with 3 weeks left... I can truly say... MISSIONS ACCOMPLISHED :)
AMEN!