Our history... our month...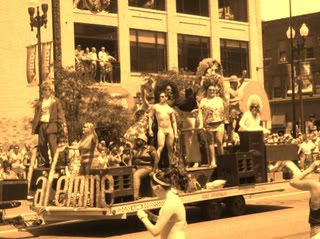 "Happy Pride! :)" I have heard this uttered so enthusiastically and with every ounce of sincerity during the gay pride weekend here in downtown Minneapolis. We are lucky that we are located in Minnesota, a US state that is mostly populated by gay people (second only to California).
This is my second time to attend this event but I have always been proud that this lifestyle is celebrated and not shunned. For a detailed history of gay pride, click
this
.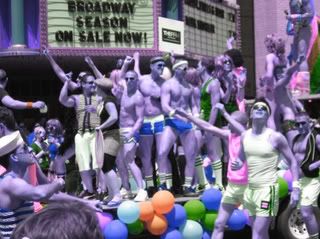 The whole Hennepin Avenue street was again littered with gay men, gay women, straight men, straight women and all those in between (still making the decision). But labels.. these are just labels.. what's important is we love.. and love... without knowing why :)
----------
I missed the dykes on bikes, but there were still the trucks with half clad men and women who are so fit and fab. You can't help but wonder if fat is really a sin to gay people.
Of course, the political parties made their presence felt. Every politician worth their salt were there because majority of their constituents are gay people. They must be visible to the community they will serve.
What excited me was the Whitman Leaves of Grass contingent, the poet of our generation indeed :)
Drag queens, dykes, lipstick lezzies, "Mark Nelson eat your heart out six pack abs" are everywhere! My straight friends would remark.. "Sayang naman nila... ang gwagwapo!" Well, it's the law of nature... :) Survival of the fittest... hahahaa.. :)
Lezziess.. :)
Gay Rugby Team - katakot noh? :)
So, to all my gay brothers and sisters.. Happy Pride! :) Just love and don't care why and who you love...
AMEN!