Movie that made me wanna dance on the movie house and the bravery of the Foster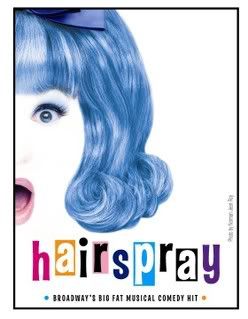 The last movie musical that made me stare at the screen without blinking was Moulin Rouge with its rich colors, great music and of course the beautiful Nicole Kidman. This woman is iridescent that it sometimes hurt to watch her onscreen. "Down with Love" was cute but not that substantial. "Chicago" was dark for me. But "Hairspray" was the first movie musical that left me squirming on my seat because I so loved to dance on the movie house no less.
The music was ear friendly, catching, up beat and it's like watching a reel musical. It has that feel. Of course, watching John Travolta playing a woman's role is truly fabulous. I realized that the young Zac Efron who played the role of Link (High School Musical teen idol) eeringly looks like the younger Travolta, with blue eyes and dark hair.
Kudos to Hairspray, this is I think the first movie I watched wherein the fat girl played by Nikky Blonsky (with boobs as big as her personality) got the boy :) Well, let's wait a few months and I think this girl will succumb to the Hollywood pressure of diets and the perfect figure.
Watch Hairspray! It's really glam! You'll love the music, and ooohh the dancing!
-------------------------------------------
Jodie Foster.... the brave one...
I am looking forward to Jodie Foster's new movie "The Brave One". Yes, she's fit, she's lean and she has that look. I find her interesting because aside from being one of the few brainy actresses in Hollywood, she gives off that vibe that makes you back off and not mess with her unless...
In this movie, we will see her with a gun... hmmmm.. interesting. It has a femme fatal, vigilante plot. But I think, she should dye her hair a darker hue so that she will have that edgier look for these types of movies. Well, on her next movie perhaps? Michelle Rodriguez and Jodie Foster in one movie that will be truly worth the wait.
AMEN!