New York Memory
When I watched the movie "Before Sunrise", I already told myself that one day I should try to travel by my lonesome to experience the floating sensation of a long distance trip. It was said that when you travel, you become detached from who you are and unreality will set in eventually.
I guess I needed time to lose myself into something. Too much id, I had it with I, me, mine thoughts.
So, last week, I embarked on a journey that involved the longest bus ride of my life (35 hours!) and to meet up with my past so I can create my future.
-----------------------------------------------------------------------------
I went to New York by riding a bus, yep, a Greyhound bus.which I now look at with misty eyes.
I was in that bus for what felt like forever and I enjoyed observing the passengers and eavesdropping in their conversations. Yep, I was scared, especially of the "Egoys" and the loud mouthed Mexicans but as a whole, they were good people who just have attitudes because they didn't want to be taken advantage of.
The bus drivers were kind but tough. They have nice uniforms and they speak with authority. When Mr. Bus Driver says that the volume of music players has to be turned down, you have to turn it down or else, you have this huge black guy infront of you, asking you to get off the bus. So,everyone was in their best behavior inside the bus for fear of Manong driver.
We had to stop in every state (Chicago, Madison, Pittsburg, Cleveland) and I didn't drink much water because the toilet on the bus didn't have a flush so, enter at your own peril :) The layovers and "pit-stops" were fun because you have to be alert where the next bus will be (you don't want to be stuck in the middle of nowhere :))
At last, I was in the New York Port Bus Authority and it was busy! Na-homesick ako bigla because it was like Manila. Marumi, matao at magulo :) nize....
After the long bus ride, I get to have my Central Park adventure. I had to walk 14 blocks from the hotel to the park and to finally see John Lennon's Dakota apartment. It was a blast!
New Yorkers under the sun... topless girls and absy guys and gays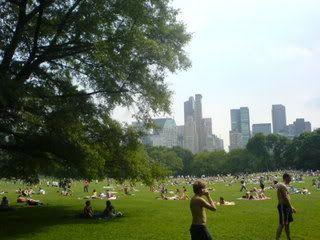 John Lennon's Dakota Apartment (Mecca for me -- sniff sniff)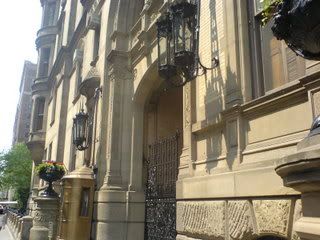 Of course, I met up with my old buddy in college (Tham) and his wife (Ethel) and we watched Lea Salonga in Les Miserables. She didn't play Ephonine because sadness, she's getting old, so its Fantine (not the Shampoo) for her. But man, all of us had tears in our eyes when she sang. I was so proud! Parang inuutot lang ang emosyon sa pagkanta.
Si Lea yan, promise! But I will wait for Tham's pics :) In fairness, of all the actors, she was the one who got all the attention (even the non-chulalay of Pinas).
The next day, we paid our respects to the symbol of the free world. The modern Colossus (tama ba spelling?) The boat ride from NY to the statueness scared me, thankfully, my friend's wife talked to me to keep me sane hahaha :) Initial thought upon seeing liberty - bakit kulay green sya?
Then, the meal! Pati coke hugis Liberty :)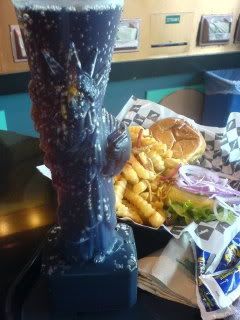 Then, I saw Amanding again with her hubby John. It's comforting to know that some things never change. We might be getting older, but the little things about us like the way we laugh, gesticulate or tell our stories will always be the same I guess. It was so good to see Amanding again.
Tham and I were laughing because when we were in college, who could have thought that one day we're going to walk on the streets of New York? New york Cubao dati, New York City ngayon. Totyal! :)
Of course, a trip will not be complete without a visit to a museum. I went to the New York Museum of Natural History. It was huge, I got lost (as usual) inside. This made me laugh :)
I believe that Homosexuals are next in the line of natural evolution. With artifical chuva, who needs differentiation among genders? Love can be enough :)
Then, a fitting ending to my New York adventure, my bus going to Minneapolis broke down somewhere in the Ohio turnpike. Turn pike? Time to make some turns in this journey called life and face reality again :)
With every journey you lose yourself then you gain a new perspective of things that will help you in the next phase.
Looking forward to my new adventure....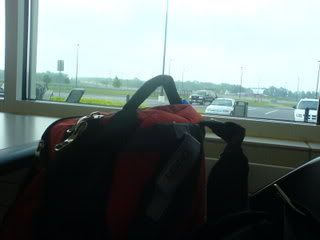 AMEN!