Gay Pride in Minnesotttaahahhh....
One of the things I like about Minnesota is the diversity. People come from different nationalities and of course, different gender identifications. Early June, I saw the flyers, "Twin Cities Pride". Oh my, the gay parade! I am going to catch it, I made a mental note! Then, I totally forgot about it.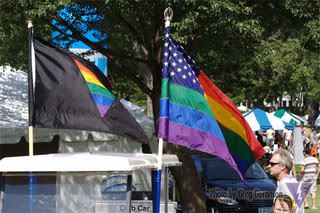 Yesterday, I went to Loring Park on my way to the lakes. I don't know why, but I just felt I needed to go out. Then, I saw two men holding hands. Ooohh.. how sweet. Then further down, I saw two women kissing... hmmm... then lo and behold, I saw booths with the rainbow flag a flying. It's the Gay Festival Weekend... whoopee!
So, I just walked around and observed. There was a band playing, and men and women (at this point, I can no longer differentiate if what I am seeing is a gay man or a gay woman, androgynous talaga) just walking around holding hands.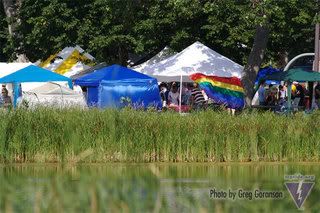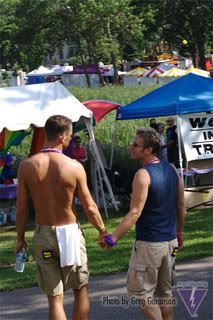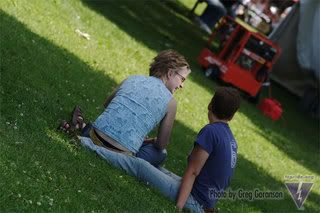 I learned that the gay parade will be this Sunday. So, I called Conchita and Fluffy, we cannot miss this! So, armed with sunscreen and shades we (Conchita, Fluffy, The Concha and me) trooped to Hennepin Avenue to see our kapatids sa pananampalataya. Oh my, gay men are really so cute and some gay women are so pretty that Concha remarked, "sayang naman yun.."
On the website, the parade should have started at 11 AM, but I told Consi, "Consi, gay parade toh, I bet this will be fashionably late..." True enought, the parade started at about 11:20 am.
There was a roar of the motors and there yah go, sisters in motorbikes. Grabeh, they are so cute and astig! Then, after which, I forgot if I was watching a gay parade or a political rally. I swear! All the politicians were there. Well, this is Minnesota, half of the population is gay. Votes kung votes!
Concha made a funny remark, "Pano kung may nagpasabog d2?" Consi wittingly remarked, "Ah eh, papangit na ang Minnesota... wala ng magpapaganda kung mamatay lahat ng bading!" Some gay men I wouldn't sense because they look so buff. Imagine, we saw buffed football guys throwing the ball then during the parade, he kissed one of the guys.
Imagine my shock, when I saw a guy we play badminton with, in front of me dancing! Langya, nde ko naamoy yun. The best buy geek squad contingent was there. Oh diba, geek na bading pa.. fabulous!
Of course, the was a float with men only wearing trunks dancing, gay cheer leaders (buffed men wearing the cheer leader costumes) dancing my humps... langya. Imagine the whole Hennepine Avenue street literally filled with gays. I wish my gay friends were here. They could have enjoyed the sights!
Now, I can say that my trip to Minnesota is complete :) Gay people rock! :)
AMEN!
Ayan, sa kin galing itoh.. eyfort kunin toh ha :)