Perfect Weekend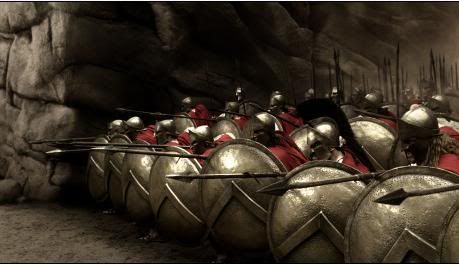 Last Friday, I was so excited to watch the movie 300. I was trying to persuade Congee to watch it with this line, "Imagine 300 absses (plural? hehe)!"
And I was not disappointed with the movie. I liked the cinematography; it has the same feel as that of Sin City. As guru Cads informed me, this was based on a graphic novel. This was definitely better than Troy. Sin City + Troy + Macho Dancer... yahoo!
It illustrated military strategy (it showed how you can beat a large army with hilly unfamiliar terrain and great fighting skills). It makes you think of the wonders of the human body when properly trained for war. But Xerxes (the god-ruler of Persia who looked like a heavily made-up drag queen) was painfully distracting. He was not beautiful enough! hehehe...
But some of the scenes bored me like when they try to be profound. I fidgeted on my seat, "Stop the talking and continue with the killing!" The movie has great action scenes! It makes you want to grab the nearest spear you can get your hands on and throw it to the person who pisses you the most.. bwahahaha...
-----------------
Go see it! If you don't like war, imagine those buff men shouting in fratlike unison.... "Aaarrruuu..." (that was how I heard their chanting...)
-----------------
We are experiencing a heat wave! 30+ degree F, not bad! I had a good workout at the gym this morning. No pain on the knees.. yahoo! Afterwhich of course, I attended to my hobby. I cooked (for next week's baon) and cleaned again. I am really a homebody. And of course, thanks to Congee, good sound tripping! Her speaker really rocks! Cooking while listening to music... Heaven!
------------------
I am really a simple person with simple needs. A good book and nice music on the background and I am at peace with the universe... hayyyyy.. life can be so sweet..
AMEN!