It's worth it pala...
This makes it all worthwhile..... a picture of the reward for all of the sleepless nights, tears and dancing to the tune of kapag tumibok ang puso.... it's official...
This is so sweet....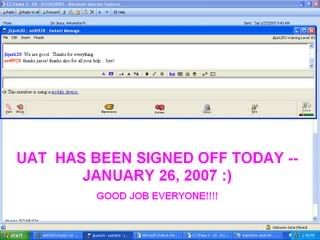 UAT moments:
- Running batch then the log file read... Aborted in process... I shouted.. "teka lang" and all the expats looked at me while I investigated to find out what happened.
- All the coding has left me dizzy one day and at the end of the day I explained to the client, "Off invoice deals have no explosion.." shet..
- I fell asleep after the 10 th day of UAT while my roomie was excitedly waiting for me since this is the first time we're going to go home early.
- At 2 am, I read an email and I cried (with heaving shoulders...) and one time I hid inside the table... gawd, I can only laugh at those moments right now..
- I was running our batch script when our counterpart asked me, "Nette, what are you doing?" I told him, "Running batch?"... He told me.." xxx aborted.." "HUWAATTT?"-roomie and I shouted in unison.
- Last Friday, sigh of relief, finally UAT sign off day, roomie and I were walking along the store and I sang "you're irressistible..." as it was the music booming from the store's sound system, my roomie nonchalantly answered... "i know..". As in, I was laughing so hard.... HAHAHA! Peace dre!
Thanks dre for everything... :)