German Sausage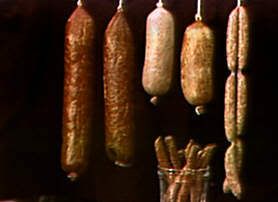 My roomie and I laugh over the silliest things. Maybe that's what keeps us sane especially now that we're here in cold Minnea. We must do what we can to bring a little piece of happiness in our lives.
Just the other day, Mr. Clean gave us one of his famous Summer Sausages as a present. Being of German Irish descent, I was rendered speechless by the gigantic size of the sausage he gave us, I told Nike.. "Ang laki naman ng sausage ni Mr. Clean..." For the life of me, she laughed. Iba daw dating pag ako nagsabi.... Ok, I admit I really, really like tasteful green jokes. It cracks me up.. wahahahahaha...
While we were walking home, I can't stop myself from giggling because Nike was holding the sausage and I was really amazed by its enormous size and it's red! HAHAHAHA!
When we cooked the sausage, Nike was the one who cut the sausage and she started at the tip, sabi ko... "langhiya, sa ulo pa talaga nagstart.." hahaha... I don't know how she was able to cook it because we were laughing all the time. When we ate the sausage, in fairness, Mr. Clean's sausage tastes good! A little salty but good.... HAHAHAHA!
So, because of the sausage, Nike was able to shop in ebay and I was able to cook a viand that will last us for a month... all that excess energy must be put to use.
Then, the next day, Mr. Clean approached me.. and he asked.."how was the sausage, tastes good?" Oh my Lord, I don't know how I was able to stop myself from laughing out loud in front of his face! HAHAHA!
Hay, we must find every bit of happiness, even if it's just over a large chunk of sausage! yummy!
hahaha.. AMEN!