I triggered an alarm!
My roomie Nike (as baptized by Mr Clean) is coming! I, will now have someone to talk to and keep me sane! A few of us are going to pick her up from the airport, and of course, being a Libran, there must be food for company!
I am thankful that I have a very helpful Kuya in the person of the running guru Cads to give me a hand in everything about the downtown area. So, after finally getting to play in the company's pingpong room, we went to Cub foods to get some supplies.
We rode a train (MRT on land!) and he taught me how to get a ticket from the dispenser. I asked him why there is no check of tickets upon loading, he said that it's all "honesty system" BUT there are spot checks by the police every now and then and there is an $80 fine for those caught without tickets... yikes!
It was a good ride, it's very similar to the MRT and then off we went to Cub foods. I am truly grateful to the running guru's patience. It took me about 10 million years just to choose which brand of... flour, salt, sugar and cooking oil to get. Huh, my Libran psyche to the surface again!
Then before I went to sleep, I smiled as I looked at our ref. Is this the same ref only just this morning with just chocos and cheese? It now looks respectable. hahaha :)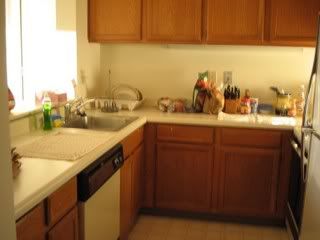 Site of Incident...
The next day, I was in the groove in the kitchen, Iron Chef Nette in the house - yo mamah! I have everything going on, the fryer, something boiling, I am chopping something away, humming with an LSS song... (alcohol by Radioactive sago) then I heard this beeping sound.... it was loud! Oh my gash! What did I do???? Is that the smoke alarm? My alarm clock? My celphone? My laptop? Is there a fire in the apartment? For a while, my super uber frizzy hair went straight in all parts. I can't go down, I am not decently clothed.
Then I realized after marcoseconds that my cooking somewhat triggered the alarm:
= heater set on high plus frying pan plus oven plus boiling pan equals smoke alarm ON!
Foot a liitle more (P***)! What to do?
What did I do? I rushed to all the windows, lameg na kung lameg, I opened them all to lower the temperature. I turned off all that are in sockets. Then, after several heartbeats, it stopped. Thank heavens!
Hayness, adventure! Then, the running guru called! My savior... and he taught me how to turn the vent on, and some other tricks so that the alarm wouldn't be triggered when cooking. Argh! The price of domestic life!
Mall of America...
When Nike arrived, I was happy that she was welcomed by edible food and great people (Von the Lion, Ronskie the cutie, Cads the running guru and Larry the housefafa). Then off we went to the Mall of America to show her around. And she had this gleam on her eyes. BINGO! She's going to enjoy her stay here... a shopaholic in Minneapolis in the making.
All in all, an eventful great day. If ever the alarm will be triggered again, I now have someone to panicked with :)
To Nike, welcome to Mpls and to the misadventures of domestic life :)
AMEN!