Bob Ong vs Jessica Zafra?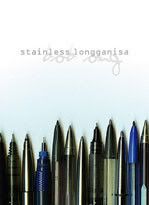 I am not an elitista (I am the most jologs person that you'll ever meet at the 26th floor of a certain building). But I have some form of malady with regards to reading Tagalog and Capampangan words, I can't really comprehend them well. It takes me a long time to finish one page of a Tagalog novel (I am a fast reader of English books, sometimes to the detriment of my comprehension). So when I try to read Bob Ong's books I really have difficulty. I have read them all except one (Ang libro ni Hudas I believe?). But I persevere because I love Bob Ong.
So far, my favorite is his latest book, "Stainless Longanisa". It has a really nice cover and these book critics really have great things to say about it:
"wow! Konti na lang ang typo!" -J.K. Rowling
"Super pwede na!" -Dan Brown
Who wouldnt' buy that book?
-----------------------------
Can we really compare Bob Ong to Jessica Zafra? I don't think so. They're both great writers (sadly, I only know a handful of Filipino writers). They each have a distinctive style and they cater to different readers. But the essense of their writing is the same. They each can touch a raw chord in our psyche. We can relate to them more because we all live in this insane country.
Stainless Longanisa is like "On Writing" by Stephen King. It's a book about the books of Bob Ong. Makes sense? He really makes me laugh. There's this part wherein he tells us that he was confined to a cell-like room with only 3 fishes for company and when all of them died, he felt lost and lonely (more that what he felt before caring for the fish).
He also has this penchant for looking at clouds and looking for the hidden mickey. He also tells us that he is lazy to take a bath thus he has BO. Irony to the highest level! He reminds me of a high school classmate who I really liked because of his weirdness.
He writes about us... Filipinos. Out of his frustrations, he uses humor to wake us up from our ennui (tama ba spelling?). Makes you think without being obvious. I also can relate to him because he is a product of the Public School System (although, I always say that the education system in the secondary level has failed me -- I don't know the difference between Haiku, limmrick ba yun? and all of those stuff).
But Jessica and Bob has this one thing in common: "They both love to write longhand using pen and paper in doing their books." Interesting indeed!