"Alcohol heaven and Meltdown"
What was this week like? As life often goes, it's full of sameness as well as changes but all in all, not so bad.
----
Sill contemplating if I am sane enough to run the 25 K, well, you only live once and this is the peak of my kneecaps so...I say... GO!
One of my office buddies asked me why I would like to run the 25K, I told her. "I think men who will run the 25K are more athletic and by laws of inference, cuter. So, even if I bust a knee cap or tendon, who knows, my Prince Hunkiness might come to my rescue! hahaha.. crazy reason.... I know!
----
Ice Age 2 was so funny. Slapstick comedy but hey, it worked! I was not able to watch "Moments of Love" and go ogling at Dingdong Dantes' arms, but what the heck, I'll just catch Encantadia and look at Haring Ibrahim as long as I like. AMEN!
Gosh, I was at awe at the computer generated fur and water. I can almost feel the water getting to me... and you know how I am scared of the water.. but I do take a bath.. yes I do.
----
I love our basketball uniform; its the color of Gryfinddor and Peyups... Maroon! Go Morp Powers! I should have suggested the name "aMOR Powers".
----
I heard that there will be a re-run of Zsa-Zsa Zathurnah the Musical. Problem: Acquiring a ticket. Where the heck is the Peta Theatre in Quezon City? Gosh! We might run out of tickets.Brother, brother... to the rescue!
----
At last, I was able to go to the famous "priests bake the pizza" place at Don Bosco, Americi! (forgot the spelling- basta!). Porshee, Melly and moi fought over geletos... loved, loved the pizza!
"We shall return!" Pasta, pizza heaven!
----
Ohh... almost forgot. We had a fabulous miryenda with Cris, Cris (yup, another Cris-H-less bro), Clyed (yup, that's how the barista spelled his name - past tense?), charming Conchita and moi. Love those guys! MWAH!
I realized that I was quite a loser when Cris (the more fabulous Cris hehehe) offered to buy us free drinks and what did I order? Orange Juice... hayyy.. the sacrifices I have to make for my knees...
----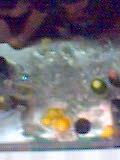 I know the picture is blurry. But that's how I felt after our Bartending class. Yup, Conchita and I attended a Bartending class and we enjoyed it tremendously. At first, we were all quiet, waiting for our teacher.
Then, voila, we learned that it was a hand-on lesson, so off we went to the mini-bar to mix some drinks. Margarita (Chilled and Mixed), Tom Collins, Zombie, Kamikaze and my favorite? Weng-Weng!
What is Weng-Weng? Teacher bartender, Judy Ann lookie-lookie, told us that Weng-Weng is an Italian word (I thought that it was a Tagalog word).
My theory is.. there was this customer, went to a bar, with only a certain amount of money to spend but who needs to get drunk fast. He ordered the bartender to mix all spirits/liquor in one drink (vodka, gin, rhum, whiskey.. etc) and the result and effect? Weng-weng!!! Sarap pare!
After a while, we were all laughing, and kidding each other. Yup, the same people who were so silent awhile ago were chatting like there were lifelong friends.
Ahhh... the effect of alchohol... it's truly amazing. I loved the class! You learn something and you get drunk... for free!
Hayyy... Alcohol... simply the best!