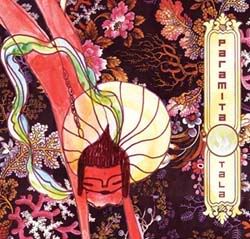 Thoughtsy Galore...
It's a friday! Maong day! Yipee... well, we have to enjoy this because this will only be for this month. I wish we can wear maong (denim jeans) everyday to work. That's my ultimate workplace! It's like college again but of course, I get paid for doing work and wearing groovy stuff (groovy? shocks.. circa 1950?)...
---
Listening to a newly discovered alternative band.. "
Paramita
"
Check out this lyrics from their song stillness...
Can you look upon your life without regret?
can you look me in the eye and say..
"I know you so well, you can't live to tell,
can't possibly survive coz you don't know how."
you're silence means nothing to me
I am much braver now
...
Cool! Their lead singer (Ria) is also their drummer. I remembered Karen Carpenter during her early years,singer/drummer.. and a woman at that! Totally awesome! An added bonus? Ria is a Gemini... really have a soft spot for fellow air signs. Another thing that caught my attention is their Buddhist sounding name. Don't know much about it but of all belief systems I like Buddhism, Taoism and Catholicism (in that order). Their album cover is so pretty! Colorful and tantric? hihihi..