"Ang Pagdadalaga ni Maximo Oliveros, Aspeto ng Pag-ibig at ang Storck"
(The Blossoming of Maximo Oliveros, Aspects of Love and Storck)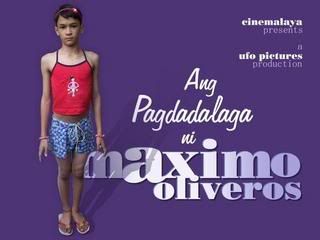 This weekend has been as refreshing as the scent of Baby cologne or Angel's Breath. It started off last Friday when Porshee Spice and I got a chance to watch one of the best Filipino films for this year, "Ang Pagdadalaga ni Maximo Oliveros". It's a coming of age movie which not only focused on the gayness of the central character but delved on the Philippine society. It will jolt you out of your complacent, apathetic view of where we as a nation are heading. WATCH IT! You can forego, Harry Potter IV (it's that good!). If you could only watch one movie for this week watch this film!
Memorable lines from the movie (taken from Anto's memory):
"Tay, ba't hindi na lang kayo magbago ng trabaho tulad ng iba" - Maxi
"Anong gusto mong gawin ko, magtrabaho sa factory. Kumayod parang kalabaw para sa kakarampot na kita. Tapos magkakasakit at mamamatay. Ayaw kong maubos ang pamilya natin Maxi." - Maxi's father
The movie not only talked about the poverty and helplessness of the majority of our country's population. It also aimed to commend the Filipino family. Maxi's family, the Oliveros, comprising of three macho men and one gay boy, you would think that Maxi will be battered but I was really touched by the love and concern in this family.
As Pogie the Goddess put it, at the end of this movie... all gay men and babaeng badings will unite in screaming, "Ang habi ng hair ni Maxi!!!"
Proof that this movie is good? I was fanning myself to stop from crying like a baby when we were coming out of the cinema. Gosh! It is really funny to look at a full-grown woman crying over Maxi and his family).. waaahhhhhhhhh....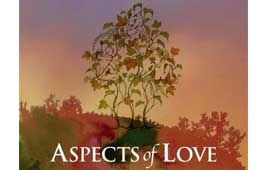 The Aspects of love is one of the lesser known musicals of Andrew Loyd Weber (the man behind Phantom of the Opera, Jesus Christ Superstar, etc). This movie was brought to Manila by New Voice Company (yup, synonymous with Monique Wilson). This was shown at the Republic of Malate (ok, I know that ROMA is in Malate, but where in Malate? Thank God for cabbies...).
This was my first time to go to Malate. Justin (my bestest friend in the world) was always persuading me to go this place but because I deem myself not cool enough for Malate, I always say, next time I will join you guys. But this play was an excuse to go where all babaeng badings should go!
The Republic of Malate is a charming place. It's a small room (I can't say theatre because it's really small). The proximity to the actors was disconcerting at first but you'll get used to it. When we were waiting for the show to start, I can't help but notice (aside from my rumbling tummy and lightheadedness (a day of badmintoning can really catch up on you)), the number of foreigners in their "super uber formal attires", shawl kung shawl! Blondies everywhere!
It was fun to watch the play with two people who are really out of this world. Ok, how can I describe their outfits?
Pogie the goddess
was wearing a midrift shirt... (yup, kita ang pusod).
Dahon
was wearing a dual type of clothing - a mirror and a dress in one. Well, me? I was my boring old self, just T-shirt and rubber shoes. I don't have the gumption of this two... truly wonderful people. In fairness, keri!
Well, this play should be have been titled "Rose's bedmates". It's a love story (or should I say love stories) of the four central characters (Rose, George, Alex, and Guilleta). I have read the synopsis of this play and it's a mathematical permutation of every conceivable combination for these four. Well, sadly pogs, Alex and George are related by blood so that's not possible.
Here is a pictorial summary of the musical (get it?):
The songs were good! I liked the idea that their only musical accompaniment are two pianists (gosh, I was amazed at the stamina of the two lady musicians). Ok, I don't know if there's a grain of truth that Monique is gay but this play is full of lip-locking. When Rose (played by Monique) was kissing George or Alex, well, I was not convinced of the passion or love, but when Rose was in bed with Guiletta and lips meshed, well... "honey, that's hot!(Paris hilton?)". And then, George joined the two ladies... you can really say that this play is about L-O-V-E (or lust?).
All the good things of the play were overshadowed by this experience: the three of us were hungry... no what's the apt term? FAMISHED! I was literally seeing stars... at the intermission of the play at 10:30 p.m.(we haven't had dinner.. only pieces of pretzels)... no foodies to be found. I rummaged through my bag and found storck candies... as soon as I let the candies out of my bag and offered it to my two comrades, they were gone! whoooshhh... Don't underestimate the lowly storck candy... it can save lives and one's sanity.
Lastly, I really fell in love with Malate. I will come back soon... I am sure I will...