Random thoughtsy...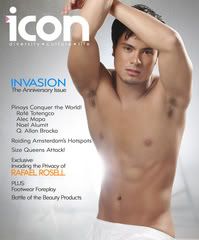 ---------------------
I can't find the digital image of that darn Bench Billboard of Rafael Rosell that is too hot for the Guadalupe bridge to handle (and the educators of a certain private university). I now know why that side of town is always in a state of heavy traffic. Who can't resist that pose? Gosh, all together now, lick finger then put in poster... "ssssssssiiiizzzzlinggg...."
---------------------
"Ok, so the new proxy will block yahoo mail. That's fine with me. "
"The newer proxy will block multiply. No probs, Anto typing away..."
"The newest proxy will block flickr (gulp), photobucket (oh no.. my world turns helter skelter.. and it will also block Blogspot! (Oh my gosh... time to convert... it's the end of the world! waaahhhhhhhhhhh!)"
---------------------
I have to make most of my weekend blogging, what was this week like? Hmmm... first of all it was Porshie Spice's Birthday! woohooo! Go girl!
Issues being fixed, no time for boy roaming (work related), groggy... proof? I was chatting with Porshie and Mhelly when I blurted out so "The Moral of the Lesson is?" What the??? Words are failing me.. oh no!
---------------------
As I was watching Jay Leno interview people about the meaning of certain foreign words, my pride for the Filipino swelled in my non-existent breasts. He asked people about the meaning of words such as coup d'etat and jihad. One even answered that Jihad is a type of alcoholic drink... heller??? Ask any Filipino and I bet that they know what these words mean. My golly, we lived through several kudetas (we even have our own spelling) and we are even in the brink of a jihad. So, our experiences are making us smarter than the Americans.
---------------------
Badminton practice! One week before our tournament... There are many badminton adiktus in our project. Another proof? We played until 12 midnight... the only thing that stopped us from playing were the lights being turned off. Gosh... there are many good players in the kabataans and not so kabataans age group.
---------------------
High school reunion coming up. My bro was shocked when a bunch of beautiful gay people turned in our doorstep to inquire if "Atchu ya i atchi mo?" (Is your sister home?). Makes me reminisce of the past. This is just one aspect of my hometown which I am so proud of. We are the land of fashionistas, beauty queens (Melanie Marquez, too many to mention), good cooking (sisig, tocino, etc), la-Ar and of course... Pampanga is truly GAYLANDIA! Just look at our gigantic parols. Roam at SM Pampanga... watch and learn!
---------------------
A certain goddess is beefing up! Good job! Your new bod is truly papable. "Cris, may kompetensya ka na!" Dahon, I like your interior. I can now see the division of sections. I will try to take hold of the videos that you like to put in your new phone. The woman and the horse is truly fun to watch.. hihihihi
---------------------
Gosh, I really don't like Sam Milby. I don't know what the fuss is all about! He's like Piolo's mini-me. But instead of an upgrade, we get...? Sam... hayyy... ok... so he likes gymnastics and figure skating... well... hmmmm