Cock-smacking galore...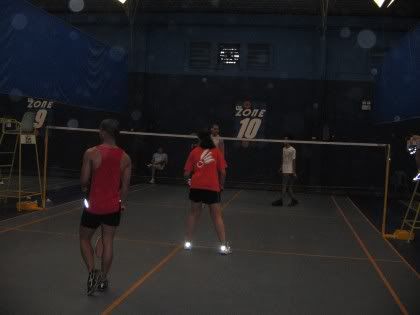 Two consecutive weeks of badmintoning... the first tourney was RBO (a project badminton competition) and the second one was a company-wide tournament.
In my first tourney, we were a mixed pair... I know... there are still people who would ask Cris and I if we play mixed doubles and all we could do is stare at them and wonder... "do I look like a guy or does cris look like a girl..." But Cris is bald so.... hmmm... my androgynous side again I guess....
Last Saturday, I played women's doubles with a fellow girl employee. This was the second time that I get to play with her and the first time was during leveling. But for first time partners, we played good!
She asked me if I play back or front... I laughed because the thought that came to my head was if I like to be top or bottom... hahaha.. Of course, I am a front net player, hihihi... at the peril of having a black eye.
During one of our games, my guy project mates were watching the game and they were cheering. I chided them,"Ako ba talaga ang chini-cheer niyo?" (
Are you really supporting me play?
) Because my partner was really pretty! I think we won our first match because both of our opponents were guys and I think they were smitten!Imagine having a front net player who's pretty and nice!
I could only think that we were the "Beauty and the Beast pair" hihihihi... I wish we made it to the semis! Wish us luck...