"Gael... Gael.... I wish you were mine!"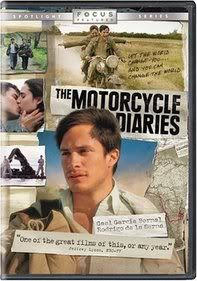 A movie... a journey... and a boy (on second thought beautiful boys always excite me).... I haven't felt this excitement for a movie, for a cause and for inspiring people for quite some time. But here I am typing away in the blistering heat of Laharlandia to share to the universe how I LOVE GAEL GARCIA BERNAL, Che Guevarra (although he's thought of as a mass murderer by some), and the Motorcycle Diaries!
I wanted to watch this movie because I am always curious who Che Guevarra was. I always see his face on T-shirts worn by cool people, mugs, etc. I wanted to know what the fuss is all about. It surprised me that there are only a few sites in English upon entering the word "Che Guevarra" in Google search. Ok, so the universe is telling me to learn Spanish.
Motivation??? I might meet GAEL GARCIA BERNAL (whew! always in bold letters.... ). I want to make a decent conversation when I finally meet this beautiful boy. Or I might die soon and I might have Che Guevarra as a guardian angel, who knows. (Che Guevarra is a Gemini!!!!)
I first saw Gael in Y Tu Mama Tam Bien (hope I got this right). He was so beautiful. Those eyes could be a weapon of mass destruction for he can destroy many hearts with just one look; what more with a wink!
Gael portrays the charismatic Cuban revolutionary Che Guevarra in the Motorcycle Diaries. I don't know much about Che but I really liked this movie! I always loved journeys because the person that started out the journey will not be the same as the one who will finish it . It's like a molting process... old skin for the new. God, I want to take a journey like this one, hopefully in this lifetime.
Che Guevarra came from an upper middle class family. He was a medical student, and had fate did not step in the way; he could have been a successful and wealthy doctor - his name written on water, forgotten to oblivion. But of course, our fates were already written even before we were born, we chose this life remember?
Together with his buddy Alberto Granado, riding "La Poderosa" (The Powerful One), an oil-leaking motorcycle, the duo travelled from Argentina to Venezuela, through Chile, Peru and Colombia. This journey is a prelude of what's to come. It's not a story of heroic fate as the movie at the start explains but a story of two lives running parallel to each other for eight months. It's romantic, scenic, breathtaking and poignantly familiar.
Some says that the Che portrayed in this movie is not real. But I say that it could have been real. He was young, 23 turning 24... idealistic, dreamy and kind. This was not the Che from the world of revolutions and military tactics (although I have to research more about his revolutionary days). There was a time in all of us when we believed in the simple absolute truth that there is only good in this world and of course beauty...that was Che at 23.
I have to give justice to this movie; I have to read more about Che to understand what happened to the years after he turned 24. But all I can say is that this movie is absolutely GREAT! I am now a Fan of GAEL! I am obsessed!
Cinematic fact: If you're going to make a semi-documentary film with no special effects make sure to cast charismatic people. Seeing their faces on screen for the whole duration of the film can compensate for any effect that any computer can generate. Such is the power of an enigmatic personality.
Just see how Che went down in history. He might have been a murderer but he sure can wear that beret to any gala dinner. A guerilla fashionista, a rebel, gawd, I am loving him! Amen!