"Love, believe, survive, LOVESTRUCK! "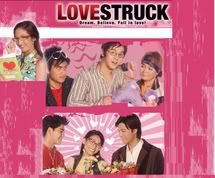 I haven't watched a movie in an air-conditioned, lulling me to sleep, air-freshener-filled movie theatre for quite some time. And after, a long hiatus (a month is soooo long), my friend Laurie and I watched Lovestruck! (can't help myself, I have to put an exclamation point there).
"Together forever, La la la la (forgot the lyrics)". This is a circa 1986 movie. A movie with a production number at the start and at the end as the credits are rolling, think "Petrang kabayo, or horsey-horsey tigidig-tigidig". Well, so much about the okray.... this movie is fun to watch. A light movie that will make you laugh and make you forget your worries for awhile.
Loved the gay character of Rainier Castillo (hayy.. really a sucker for gay men). I think Mike Tan has a cute smile. My favorite writer Jessica Zafra was parodied in this movie. Jolina Magdangal played the part of a book author/columnist. She and Jenalyn have those classic Zafra glasses but Jolina is a "Romance" columnist. I think Jessica will rather eat salad or drop dead than write a romance column.
I loved Jolina in this movie. She played different characters such as "negrong bangkero" black boatman, Ai-Ai look-a-like, Betty La Feya, etc. She was hilarious!
If you just like to be entertained, go catch this film! Just don't set any expectations and indulge in the guilty pleasure!
-----------------------------------------------------------------------
Narnia Experience
I so love the Chronicles of Narnia! I just finished the second book (there are seven in the series, just like Harry potter) "The Lion, the witch and the Wardrobe". It is so good! If I am going to teach a child about faith and Jesus Christ, I would read to him/her this book! If only evangelicals can teach faith in a creative manner such as C.S. Lewis. Well, this is just my opinion anyway, but the way the "Sacrificial Lamb" was depicted in this book is not preachy, not "holier-than-thou"; just a fairy tale-like story that can be easily explained to a toddler. Simplicity is really a virtue.
Can't wait to finish the rest.