Footlose! The Musical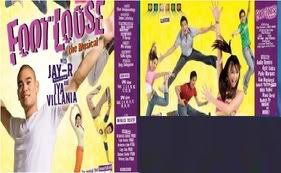 Okay, where do I start? I am still at an all-time high probably from caffeine or from adrenaline (as a result of a celebrity sighting). Yup, there will be a celebrity somewhere in this. Not from the cast of footloose but from the man of my dreams... gushing as I type these words.
First, I have to describe my companions in this ultra-fab night. The FAB 3, the F girls, comprising of "itago na lang natin sa mga pangalang": Daphne with her chick outfit and super classy bag that was probably used by Benjamin Franklin in his lightning experiments, my Ate Anna Karenina, with her 80s mod look that could put the whole Smokey Mountain to shame and of course moi, the mastermind of this event with my pink outfit, if my two companions are truly fab then I can add flab to our fabulousness! Kidding guys, you know how I really loved your outfits! Mwah!
I would like to thank our contact Westley for giving us good seats and with discounts! (sshhh, shhhhh). This was the first time that we were seated at the front seats during an event! We loved it but we learned that too near also has it flaws. more to that line later.
The countdown began, 5,4,3,2 and 1... the lights were dimmed and we could see silhouettes of the cast in their cool poses, we were wondering... "where is fafa JR!". Then, the band began to play... Footloose was the first song... and there is fafa JR (Ren McCormarck) in his cool black outfit. Wow! This guy can dress! What's his accessory? Black hat! And.. and.. drooling... white, cool, snickers that only JR can pull off with the entire outfit. Of course I have to describe the fitting shirt that truly fit his wonderfully shaped bod! I so love JR! Yummy!
Ok, I decided to look at some of the casts; there was Audie Gimora who played the Reverend Moore, Agot Isidro his mesmerizing beautiful wife. Ahh.. there was Myx VJ Iya Villania (Ariel Moore) their daughter in her hot, hot red cowboy boots, Nikki Valdez, as one of Iya's friends and several commercial models. My eyes were truly satisfied will all those eye-candies.
The play was divided into two: Act 1 and Act 2. For me, these two parts are truly different. The first part was like watching a high school play. All of them can sing, no doubt about that... but the dancing! This is footloose! You know... the movie that made Kevin Bacon a certified dancing hottie in the league of the equally hot John Travolta. What's with those missteps! Arghhh.. this should be a hoopla, a grandiose show of DANCE! "Where are the streetboys when you direly need them!"
"Ok... 1,2,3... sumayaw naman ng sabay-sabay, please!" Please dance in sync! Being seated at the front, we could fairly see all their mistakes and all the confusion in their movement. In fairness, JR was good. His moves were superbly executed but he has to memorize his lines some more and improve in his acting. All in all, Act 1 was terrible!
Act 2 was different. We were given a chance to witness the singing and acting chops of Audie Gimora, Agot Isidro and "Willard!". Surprisingly, Iya was a good singer! She is sexy and even if she's not that good a dancer, she knows the steps and gave a decent performance. My favorite scenes: Solo number of Audie Gimora (I miss my son) ,JR's speech at the town council and of course I am such a sucker for romance "Almost Paradise" duet of JR and Iya.
Favorite comedic scene: JR (Ren McComarck) and Iya were having their "moment". JR said, "You know, I always think of you 24 hours a day". The audience gave a collective laugh as we were all reminded of a Sun cellular commercial... Jung was right; we are part of a collective consciousness.
This play was about a person (Eric McCormarck) who stood up for something. In a town who legitimized non-dancing (if there was such a term), he fought for the right to express himself through dancing. He went against the high brow, conservatives of Bormoth. Even it was something as mundane as dancing, it stands for the restrictions imposed with such rigidity without love and understanding. It is also a play about the importance of family, friends and of course, love!
If you like a night full of beautiful people onstage, cool moves, and if you dig the 80s song such as "Footloose", "Let's Hear it for the Boy", "Holding Out For A Hero" and of course "Almost Paradise", go catch this play. I was in denial in the first part of the play but I have to admit, I am now a fan of Iya Villania. She's cool!
And now, the sighting... Ok... after the play, the FAB 3 were discussing the play when Ate Anna Karenina was nowhere to be found. I asked Daphne, "where is Ate Anna Karenina?". Then, before my eyes, several steps away from Ate Karenina... the man of my dreams... I have to shout "icccccccckkkkkkkkkkkkkkk" CHRISTIAN BAUTISTA!!!!! Omigod! Of course, with lightning speed Daphne and I caught up with Ate Anna Karenina and I was ogling. Shit! I could just reach out and I will be touching his body!
Of course, just like any celebrity sighting, I was star struck! Tameme! Ate Anna Karenina wanted to talk to him to have our picture taken but we were tugging at anything in her person to stop her from her "deliciously evil" plan. I just can't! I don't have the guts. We were pulling at her bag, her dress and when all else failed... Daphne pulled Ate Anna Karenina's hair!!! Gosh, that brought her to her senses. Besides, my phone doesn't have good night mode shots. The picture will only be distorted.
Just seeing him is ohhh so worth it. An early birthday gift! Oh, I forgot to mention that he was with Rachell Ann Go (lucky girl!) Hayy... All in all I truly enjoyed the play. Stalking Christian Bautista was an added BONUS! Thanks to Daphne and Ate Anna Karenina... for being kind enough to watch the play with me. Mwah!