Veronika Decides to Die - "To desire death is to desire life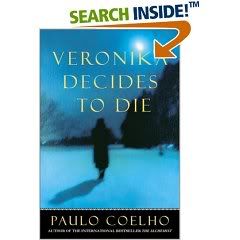 In two crucial phases of my life, I may be egotistic but I feel that the Universe send me two books by Paulo Coelho to guide and to comfort me. "The Alchemist" taught me to follow my heart and to take risks in the face of uncertainty and now, amidst feelings of bleakness, I had "Veronika Decides to Die".
In the first few chapters, I saw myself in Veronika. In fact, there are a lot of Veronikas out there living in complete apathy and hopelessness. This may be the latest maladies of our generation. I remembered a time when I was younger when I thought that I wanted to die. Then, as I was walking along East Avenue, I was hit by a motorcycle. Unscatched, (thank heavens that I only have few swellings and bruises) I thought to myself as I limped back home, "God has a silly sense of humor and I just laughed even if my whole body ached and I was literally seeing stars just like Bugs Bunny."
This story is just like that. "To affirm life, we must be conscious of Death." Poignantly true....