"Some girls you marry, some you love." - Daniel Beauxhomme
"Love can withstand the storm, cross the earth and survive even in the face of death" - Agwe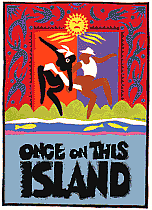 Last Saturday, amidst the dreary and rainy weather, we braved the elements to watch the play "Once on this Island". Aside from the unfriendly weather, we were seated at the balcony seat. Not so bad if this was just an ordinary theatre but the seats at the Carlos P. Romulo theatre are arranged by "floors". Thus, we are seated a good three floors from the stage. Of course, even if I was terribly afraid of heights, I think we had good seats because we have a good view of the actors' faces. Not bad... not bad at all.
(Note: I heard that this story was an adaptation of the Little Mermaid so I was expecting mermans or mermaids but alas all throughout the play, there were only ten islanders on the stage. All humans... all clothed... hayy..)
I had high expectations with this play because I was able to listen to the whole soundtrack beforehand. The music was "islandy", very rhythmic and contemporary. Unlike other plays whose melodies are too formal and whose theme can be complex. This play has a very simple but very profound theme in which all elements revolved.... it's a play about unconditional love... uncomplicated love....
The two main protagonists are Ti Moune, a young peasant girl whom the gods of the Island saved from death when she was just a child, marked for a special fate. And of course, in a story of love, if there's a girl, there must be a boy. The boy in this story is Daniel Beauxhomme, the son of the French Grand Don... a beautiful mulatto. The girl was played by a girl who looked like a more mature Karelle, very pretty, vibrant, good dancer but her vocals need more work. Daniel was played by Jeffrey Hidalgo. He played the part well, but in a cast of extraordinary performers, he was the weakest link.
This story is close to the hearts of Filipinos because it is a classical rendition of a typical LVN movie, "Langit siya, lupa ako...yada.. yada...". The two main protagonists cannot fall in love because they are worlds apart but of course, there is always a ripple in the pond of fate. In this play, a storm conjured by the gods brought two worlds in collision. Daniel had an accident while riding his car around the island.
Ti Moune found him, in the brink of Death. She cared for him, neither eating nor sleeping, a true Filipino martyr. I am having recalls of Mara (another telenovela). But the cheesiness of the theme is incomparable to the music, dance choreography, and the total look of the stage. Very zen like, minimal props, simple backdrop... a beautiful tapestry of sound and sight.
Of course, Ti Moune was separated from Daniel when his rich father found him and they immediately went back to the city. Thus, Ti Moune was compelled to take a journey that was legendary. Her love for the boy was really pure and at the end of the play, I had tears in my eyes. Gosh... it really got me.
Bituin was the strongest performer. She played Asaka (Goddess of the Earth). When she sang "Mama will provide" I want to immediately give her a standing ovation. Bravo! The girl can really move! Go girl! I also liked Jett Pangan who played the God of Death.
All in all, Once on this Island is a must see! Go see it! Dali na! I think it's still playing. You don't want to miss this. ok, there is a kissing scene but heyy.. that was an added bonus!
After watching the play, I want to fall in love like Ti Moune. Now na!