Musings on Strength and Courage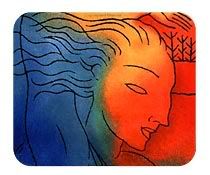 Strength is waking every morning knowing that this day is the same as most yesterdays,
Courage is admitting defeat and playing on even if chances are slim,
Strength is keeping a happy and cheerful smile even if your heart is breaking,
Courage is trying something different even at the expense of dignity.
Strength is letting your body work even if you spirit has long been gone,
Courage is being ecstatic and loving towards people knowing that one day they can be the source of your pain and misery.
Strength and Courage are needed as you decide if each day is really worth living.