Avenue Q --- Grown-up Sesame Street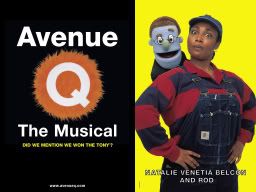 I have been listening to the Soundtrack of Avenue Q (2004 Tony Award winner for best musical) and I was laughing and swaying to the beat. It's a play that every yuppie can relate to. It delves on various topics close to our hearts (apartments, making ends meet, searching for life's purpose, gayness, porn, friendship, infatuation, love, etc). Another thing about Avenue Q is that the characters are all puppets and the voices sounded like characters from Sesame Street like Ernie, Bert, etc. I can't wait for this play to be staged here in the Philippines.
My favorite character is Rod! You guessed it right... Rod is gay! But he's still in the closet. The song that I really dig is the song "If you were gay". In this scene, Rod was reading "Broadway Musicals of the 1940s" (if this is not a clue to his sexuality then I don't know what is). His friend Nicky was telling him about an incident on the subway where he was mistaken for a gay guy and someone was making a pass at him. Then, Rod was suddenly all defensive.
An excerpt: (If you were gay)
NICKY
He was being real friendly,
And I think he was coming on to me.
I think he might've thought I was gay!
ROD
Ahem, so, uh, why are you telling me this?
Why should I care?
I don't care.
What did you have for lunch today?
NICKY
Oh, you don't have to get
All defensive about it, Rod...
ROD
I'm NOT getting defensive!
What do I care about some gay guy you met, okay?
I'm trying to read.
NICKY
Oh, I didn't mean anything by it, Rod.
I just think it's something we should be able to talk about.
ROD
I don't want to talk about it,
Nicky! This conversation is over!!!
NICKY
Yeah, but...
ROD
OVER!!!
...
My favourite lines:
NICKY
You can count me
To always be
Beside you every day,
To tell you it's okay,
You were just born that way,
And, as they say,
IT'S IN YOUR DNA,
YOU'RE GAY!
Really funny! A gay DNA! Whew, that's something!