When the melancholic meets the jaded....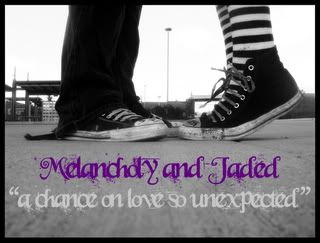 La vie boheme... it's in the air. The craving for change and the escape from normalcy and reality. Are we nearing the real Aquarian age? There is an unrest that is bubbling and struggling to be released.
------
What do you get when the melancholic meets the jaded? Interesting match eh? One is struggling to escape from the self and the other living inside a wall that cannot be easily torn down. Each will learn from the other. The melancholic will learn how to live outside of self, to give more and in escaping from the self find happiness. The jaded will learn how to trust and to believe that the real deal exists.
Both of them will learn how to reach out and to accept that they deserve a chance at love. We make our own reality.... if you believe that this is good for the now.. so be it. A new lease on life.... even if forever seems so far away...
AMEN!