From the past, to the future...
I went to the house of a dear friend. I haven't seen her for quite some time but I was adamant to see her because as the saying goes, "As you grow older, you need friends who knew you when you were young..." I have known her since high school through college and she was one of the primary influences in my life. Another good reason to visit her was that she lives in UP Diliman - my favorite place on earth. Every visit to UP gives me comfort and this is the place that I have been happiest.
She has a cute daughter now. She was the least motherly of our group then and I was curious as to what kind of mom she is. Then I saw her with her kiddo and I knew that motherhood suits her.
We talked from 8 pm to 2 am. Yep, I was forced to go home because I have to work the next day but sharing the past with someone can be helpful in facing your future.
"Ba't nga ba nawala ka sa barkada?" my friend asked....
"Ah eh... naaalala mo ba history natin?" I reminded her...
I learned a lot about myself then. Things I have forgotten from the past, things she reminded me of. I realized that I really hated conflict, I run away when I cannot take the situation and given two choices - someone who is self sufficient and someone who needs help, I'll go for the latter. :)
She is more beautiful now. There's still that bond that I missed. She and I can talk about anything and everything and silence is not awkward. A thought crossed my mind while we were talking outside the UP Post Office and I was smoking my last stick of cigarete (same scene we were in 5 years ago)... ... "What if I told her 12 years ago how I really felt?".. nahh... I wasn't ready then...
She is happy now, that I am sure. And in seeing her again I knew that I can also be happy.... and there will be lots of missed opportunities but as the saying goes, "Some things are really not meant to be..."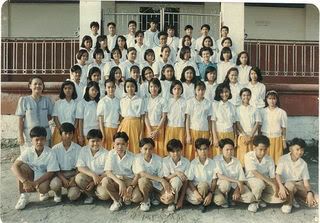 (she is in there somewhere)
AMEN!