Everybody needs a shipwreck once in a while.. A day to be proud of Philippine Cinema
Pogs called me and asked if I want to watch Tempation Island. Light bulbs at the top of my head flickered. Jessica Zafra loved this film and she said that this film was so bad, it was great! So, without batting an eyelash, I said.. "Goezzz me!"
OMIGOD! I can't thank Pogie enough. This was bad Filipino film at its finest. Grabeh, potah, ang ganda! I was laughing throughout the duration of the movie. Classic one-liners that will make you cringe and laugh at the same time.
Fist off, we were queueing to get inside the cinema (Megamall was hosting the Cine Filipino Classic festival). As I was talking to Pogie, I realized that it's like a gay smorgasbord. Every guy as far as my myopic eyes could see is glaringly gay! But of course, ladies of taste will line up to see this film, hihihihi.
This was a movie about a crew from a yacht filled with the finalists for the Ms. Manila Sunshine contest that were shipwrecked on a desert island... nine colorful characters. Makes me think that Jose Gochinagco was psychic, this may have been the formula for the series "Survivor".
Throw in a rich girl bitch (class A in her own league), her maid who was stereotypically the Inday character (slow but kindhearted), an innocent virgin lass (played by no other than Dina Bonnevie), her cute boyfriend, a whore crook (pronounced as kruk), the clueless social climber, a flimsy and witty gay pageant director, the no-nonsense waiter, and the male prostitute (played by Ricky Belmonte) and you have the ingredients for chaos. No boring scene I tell you!
The one-liners delivered in deadpan English but with pronunciation that is distinctly pinoy, "missing Hs, Ps for Fs and vice versa, and of course, there was this one time that beach was pronounced as bitch, bwahaha". The ladies were so funny in the way they speak these lines:
"Remember mahirap i-achieve ang golden tan."
"Hay kagabi, compose na compose byuti ko. Ngayon nagdi-decompose na!"
"It's Miss Manila Sunshine, not Miss Manila Sunstroke."
"Minsan ka lang naging survivor, komunista ka na."
"Maraming klaseng puta: bigtime at small time."
" Everybody needs a shipwreck once in a while." (winner!)
And this was the best dance sequence of all time for me:
"Walang Tubig, walang pagkain, edi magsayaw na lang tayo." (Bodies gyrating after this line was spoken and even if there were two girls fighting, the kruk was still dancing for the life of her.)
Of course, the scene in which one night, each of the ladies had a "male guest" at their hut and Inday was dancing beside the bonfire. The musics, the sounds... waahhh... Classsiiiccc...
Then, there was this hallucination in which there was a humongous ice cream and the girls were licking it. The creator of this film is a genius!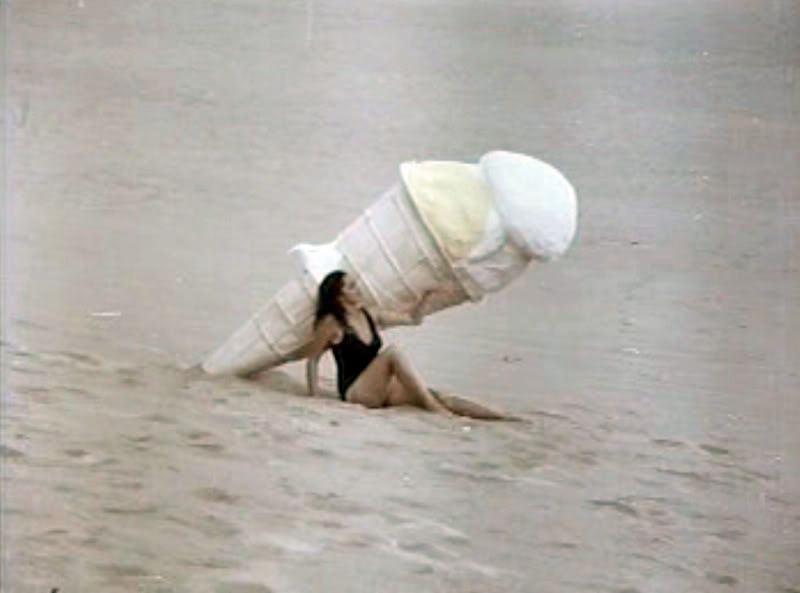 This was the best photoshoot ever, when asked by Ricky Belmonte if he could take her picture, the social climber hesitated, she said she doesn't know how to pose (so pinoy). Then, the classic pose that can rival the best picture from America's Top model.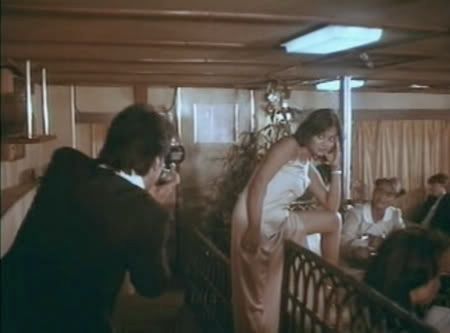 A classic I tell you, a classic...
AMEN!