Baptist and Muslim Weddings and Weddings of the future…
I had been in two weddings this week; one wedding was a cultural experience of how an Islamic wedding is and the other a kind of reconnection with the people I work with.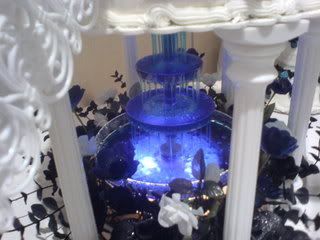 There is a mini-fountain inside the cake... wow!
A couple of weeks ago, my Muslim co-worker persuaded me to extend my fly home for a couple of days so I could attend his wedding. He was one of the kindest souls I have known so how could I say no? He told us that in the reception, the men would be separated from the women. We didn't anticipate that we are going to be in two separate rooms like we were attending two separate weddings. I didn't get to see my friend Abelskie until the end of the ceremony (wow, why does it feel that Minnea was a separate world right now?).
The bride was covered from head to foot; she was wearing a hood that covered her face. If a man aside from her husband, enters the room where the women are staying, she had to cover her face entirely. Once we were wondering why they were covering her up, then a man entered the room to fix the speakers (the band which are primarily men stayed on the other room), that is hardcore!
When we entered the room, all of the women's heads were covered with veils but when the door was closed and there were no men left, all of them took off their veils and voila, they were transformed! Somalian women are so beautiful.
The women all danced together; well, is this how parties are conducted in Islam? Women dancing with other women…hmmm, not bad… Not bad at all. But the music takes a lot of getting use to. It was so guttural but rhythmic. Their dance is just like belly dancing and a lot of arm movements. Ooohh.. and a lot of hip movements too… bwehehehe.. It just is interesting that they were able to preserve this.
The first time I saw my co-worker's bride, I thought I was staring at the Virgin Mary; that is how pretty she was. My Muslim co-worker is one lucky dude.
This wedding was a testament that love can carry on despite modernism.
-------------------------
Yesterday, I attended a wedding that resulted from office romance. Some may say that office relationships will not work, well, sometimes it does. My own parents were officemates before they became a couple so the office can be a romance hub. The wedding ceremony was the shortest one that I have attended (a Baptist wedding). No frills, just the couple exchanging vows and making speeches to their parents. It was short and sweet.
But the interesting thing about their wedding was the sound of gunshots going off. The ceremony/reception area was near the Gotcha paintball area, so I term it as a "Shotgun wedding" because of the background music.
This wedding was proof that Age does not matter where there is love.
----------------------------
Weddings are one of the necessary traditions that I think will last until the next century. It's a celebration of how love works and something that the couple will look back to when times get rough. I joked to my best friend Justin, "When are you getting married?" He just casually remarked, "Bessie (he called me this and I really missed it), it's not yet legal." HAHAHAHA! Someday my dear, someday, weddings will be open for all, Gender will not be a requirement but all you will need is LOVE.
AMEN!