A weekend of fun - Part Two
Saturday morning - Woken up by a text message - Normita. Normita! Gosh, how time flies and we're going to meet a fabulous girl that is really "kakaiba". Mornie (as the Kuya Benj of Nike calls her (naks, nakiki-kuya na rin ako), is really a fab girl. The IT Girl of our company during our time.
So, from Jersey where we are staying with the Viloria clan, Kuya drove us to New York. The drive from Jersey to New York takes about 30 minutes and once you approach New York, OMG! You can feel the electricity in the air. It's not my imagination, the city is really alive! The energy is palpable! I like Minnesota but I missed the energy of the Philippines. But New York has that energy and more!
I was really tempted to walk out of the car and just walk around. The city is alive I tell you. It's like a place that has a vibe of its own just like UP Diliman. There's something wondrously alive - it has a heart!
I have to stop my meanderings, anyway, then when I saw Mornie across the street gosh, I literally shouted to Nike, "There she is!" I wanted to lift her up in the air when I saw her. But I sensed a change in her. Awwww... she has mellowed. I thought she was groggy or something but no, something has changed. She is still Mornie but she has definitely mellowed down... a bit. There's still that panache and energy when she speaks but she's not the girl that she used to be back then.
We walked around New York with Mornie. Nike, Mornie and I used to work on a project (office depot - OD) before and it was so surreal to walk around NY with her. It was a blast!
OD Girls in New York...Nike, Mornie and Moi (hanapin niyo ako)...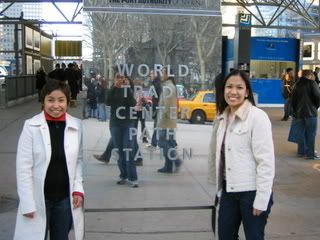 I have to lift Mornie up to take this picture.. (weight lifting paying its dues)
Infront of the pictures of the event that change the world
The girls walking along Thames St. I loved the sidestreets of NY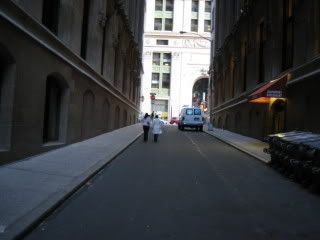 For a complete view of the NY scenes, take a look at Nike's blog:
OD GIRLS in NY
Hay, I love New York!