A weekend of fun - Part One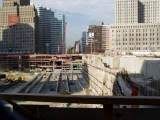 Last night, Nike and I, were giddy with excitement because we were flying to the Big Apple! New York, New York! The place that John Lennon fought to stay for the last years of his life. If he liked it there, then being an egomaniacal person that I am, I know that I can surely feel what made him want to stay there even if it caused his death.
Three states in One night!
I have been lifting weights for the past month or so, not knowing why I had this sudden urge to build muscles. Gaining weight is inevitable if one transitions from a warm weather to a very cold state such as Minnesota. I decided that if I am going to gain weight, I must gain it mostly in muscle. So, I started to lift weights to the point when I can lift almost five plates of metal and 15 lbs of free weights.
When I saw our luggages, lightbulb, that's why! Carrying those huge luggages could have been a hurculean tasks if I didn't have much practice in free weights. It was effortless, the only challenge was the carryon luggage stuf which we have to zip and unzip during inspection. Other than that, the muscles and fat paid their dues, hehehe :)
Our flight was supposed to just last us two hours - from Minneapolis to New York. But when we were at the top of New York, the captain announced that we are running out of fuel because we can't land due to the number of airplanes on the runway. Akalain mo yun, hindi lang pala sa Pinas nangyayari yun pati sa Tate. So we had to go to Philadelphia to refuel.
Comedy of errors pa rin. When we got to Philadelphia, we were able to land, yes, but the pilot cannot find a refueling area. hahaha.. But the Americans are so patient, they just mumbled and stuff but if it was a Philippine flight, it could have turned into a fiesta. hahaha.. :)
We landed in New York at about 2 am (NY time) and when I felt the cold air (not the chilly air of Minneapolis), I can't believe it. I am in New York! It's true... it exists!
So, off we go... and I can't wait to see New York in all of its splendors.
AMEN!