Choco-Posts and Thoughts
The Champ of my heart...
Ira - hayyy...
Bamboo and Ira!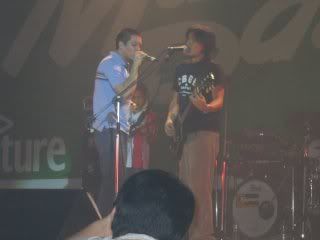 Waaaaahhh... I am still at adrenalin level 10 as a result of my head-banging and almost direct encounter with Champ of Hale and Bamboo & Ira of Bamboo (the band) during our company Christmas party! I was at my rock-rockan outfit complete with leather wristband (Erap is that you?). My brother is a Haler so by transference I think I was made a Haler even if I don't like boy bands. Bamboo is so energetic and his skin is so flawless! Kutis Papaya!
I haven't been in a mash-pit (is that how you spell it?) since college but yesterday I was transported to those good old days of sardine-cacophony of people, and of course smells! You have no choice but to jump because you'll be squished if you don't move.... Well,,, I've seen worse... (queue of people enlisting for a slot in a PE Subject) ... but I enjoyed it! Rock & Roll!!!
I have yet to win a major prize in a company raffle... next year perhaps?