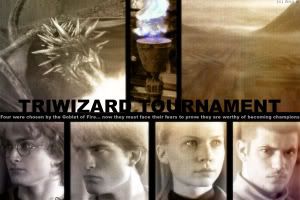 And the magic continues???
I didn't watch this movie on the first day. I was adamant that I should only watch this movie on Movie night (one of our company's perks -- thankful am I). I really loved Harry Potter III (Prisoner of Azkaban)-both the movie and the book so I guess I wasn't expecting much from the fourth movie... only effects, effects, and of course beautiful boys.
It didn't fail me on these aspects. The effects were magical... as if I was transported in Rowlin's magical realm. I liked the hairstyles, the look and feel of the movie and the innate "unrealness" of the surroundings. The castle's architecture and the ground landscape were derived from the third movie (i.e. the long bridge). It's a mix-match of the previous movies. The goblet of fire was amazing.
I liked the mix of actors. The foreign look of the students from the other two schools was a welcome relief (loving the fire breather). I liked the eclectic uniforms. And the Yule Ball was... well... a little cheesy... reminscent of a JS promenade or the UN Parade of Nations as my brother would put it. Chang was beautiful, Cedrick was so pretty! and Krum was delicious!
A few surprises: Neville was a revelation! Of all the young actors, he caught my eye because of the depth he has shown. He has many scenes in this movie (this might be an influence on the part of Rowlin). Maybe, Neville will have a big role to play in the coming 7th book. He might be the Wormtongue of his group or the BIG surprise (in the prophecy, the day of birth of the one who will challenge Voldemort was given... Harry and Neville shared that same birth date...hmmm...)...
Ralph Fienes is the perfect Voldemort! He is so menacing! I am excited on how many scenes he will have on the upcoming movies.
All in all, I was not that disappointed. It was alright. Just right... the beautiful boys made the movie fun for me! Cedrick!!! Krumm!!!! You're just the right age my lads.... hihihi...
Ay, lastly... Fleur! What's with that high pitch screaming inside that maze! Ghastly, sexist! Oh well... life...