SUGO!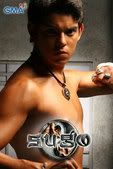 About Sugo.. (excerpt from website)... Richard!!! hayy...
Legend says that in a hidden labyrinth deep in the mountains, an ancient tribal mummy is buried. Apo Abukay was once a powerful chieftain who abused his magical powers. He lies at rest, just waiting for the right person to bring him to life again.
The shadows also whisper that in every generation, there is a girl whose blood shall be the key to awaken Apo Abukay. This key, it is said, shall come from the line of Apo Abukay. They are called the BINHIL-AN.
Standing in the way of Apo Abukay's awakening are the KARAG-AYAN. It is their mission to kill the key and prevent Apo Abukay from coming to life again. For many generations and through many eras they have always succeeded…until now.
And so begins the story of Sugo, GMA's latest teledrama which guarantees an action-packed drama adventure that will keep you at the edge of your seat.
Many decades are encompassed as the story of the first Sugo and the first Key are brought to the fore. The tale will take you into the heart of the deep mountains… and across the ocean to mystic places.
SUGO will take viewers on a wondrous journey filled with mystery and action. In it, Richard Gutierrez steps into the roles of Miguel and Amante. They are twins-- one becomes the slayer, the other becomes the protector of the key. Raised separately they are unaware of each other's existence.
The cast of Sugo reads like a Who's Who in the entertainment industry. Expect stellar performances from Amy Austria, Ariel Rivera, Gardo Versoza, Leo Martinez, Boots Anson Roa, Luz Valdez, Paolo Contis, Chynna Ortaleza, Ramon Christopher, John Arcilla and Ms. Lorna Tolentino. Also part of this much-awaited teledrama are Gabby Eigenmann, Richard Quan, JC de Vera, Dion Ignacio, Mike Tan, LJ Reyes and Pontin.
Taiwan star Joe Chen (Joanne Zheng Zhi Qiao) takes on a special role as Mei Li. She appeared in the popular Chinovelas My MVP Valentine and Twin Sister 100% Senorita, both of which were aired by GMA. She also stars in Senoria Maemae which will be shown on GMA starting this Monday.
Sugo also introduces the lovely Isabel Oli as Isabel, a girl whose very existence changes the course of Miguel and Amante's lives.
Find yourself in the middle of an ageless war between those that would protect the world, and those that would destroy it. The action sequences will surely get your blood pumping… while the romantic love story is guaranteed to make your heart melt.